While our composite decking boards alone have the power to transform any outdoor space, our customers will find that without the correct finishing touches, their project can look incomplete and undressed. In fact, customers aren't limited to just one option for edging with our decking system and we have found that customers have tried all kinds of inventive ways to clean up those edges to complete their beautiful outdoor spaces: from a composite decking edge trim, to utilising other edging materials – the options are varied and diverse and can look fantastic on your decking project. This article outlines a few options that are available, along with a range of imagery to provide you with some added inspiration.
Composite Decking Edging – Corner Trims
When opting for a solution to cover the exposed edges of their decking project, the majority of our customer's will apply either a NeoTimber skirting or NeoTimber corner trim. Our composite decking trims are often the obvious go-to solution that provides the project with a seamless finish by covering either the butt-end or the grooved channel-side of our boards. The application of these trims is diverse, and how they are used will be determined by the nature of the project, as well as the personal preference of the customer.
Our flat skirting trim offers most decking projects a perfect edging solution, allowing you to cover the side of the boards and the exposed subframe. For raised projects, some customers stack skirting trims on top of one another to achieve their desired height.
For the more adventurous projects that incorporate curves, we find the bend capacity of this trim makes it an excellent solution. In comparison, our corner trim also provides a neat solution to cover both the grooved-channel and exposed ends of our deck boards. This l-shaped trim sits on both the lateral and vertical edge of the end-boards and provides the project with a neat and compact finish.
Both of our composite decking trims come in a sanded finish, which provide an excellent contrast between the woodgrain finish of our boards.
When it comes to raised decking projects, some customers are often faced with a fascia area to contend with. In this case, customers will often decide against our composite trims and instead, install a full-length board (or boards) to form a more consistent-looking finish to their main deck area.
The options for installation are varied: customers can either position the boards wood-grain-side exposed, or alternatively, customers utilise the reversibility of our boards to show the grooved-channel finish. The options are varied and provide an element of contrast to the project. Depending on your preference – our boards can be installed both vertically and horizontally.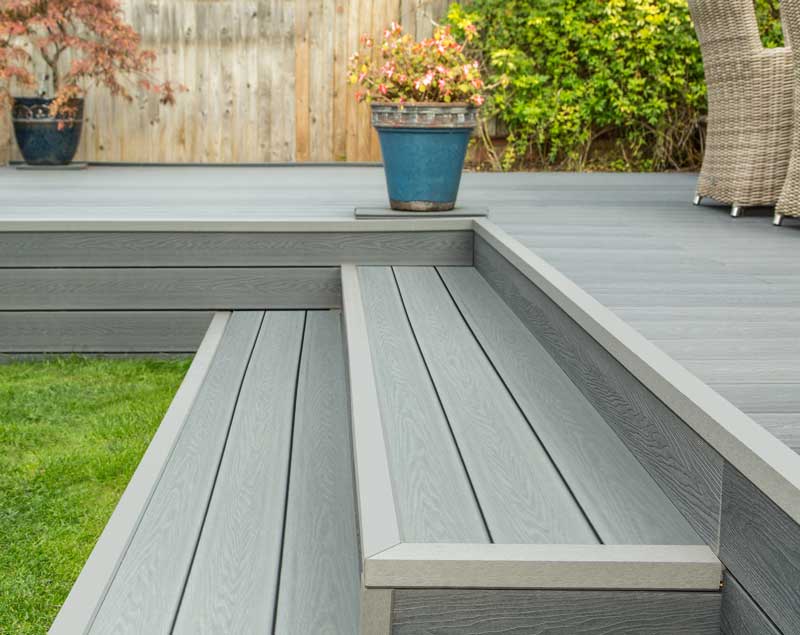 Picture Frame Your Project
Featuring a picture-frame design into your project allows you to create a neat boarder that frames the project perfectly. This increasingly popular design brings something a little different to even the simplest of decking projects. This can be achieved by using our boards, or opting for the NeoTimber edge board, which allows for a seamless finish without the need for an additional trim.
This level of contrast which the picture-framing option offers can be accentuated by opting for contrasting both the finish and colour of your framing option.
Edge The Perimeter Of Your Project With An Alternative Material
Framing your sleek and contemporary boards with a more traditional material can truly top-off the perfect decking project, offering a well-balanced colour and material contrast. Brick garden edging solutions and stone tiles can form clean and neat boarders. We find this works well around ground-level decking projects especially when a trim option may simply not be a choice.
Need Further Support or Advice?
If you've still got questions that have not been answered here, or you would like additional advice,
support or assistance then please give one of our friendly experts a call and we'll be happy to help.
Just give us a call on 01509 323 170.